The focus of Wellness Ministry at SBPC is wellness for everyone. Please utilize this page for resources that are updated on a regular basis. Customized resources can be accessed through Melissa Bolt, see contact info at bottom of the page...
WELLNESS OPPORTUNITIES
Fall 2023 Wellness Night
Wednesday, September 27th - 6:45PM - 8:15PM
Speaker - Dr. Chinwé Williams
Dr. Chinwé Williams, Ph. D. is a Licensed and Board-Certified therapist, speaker, author, and consultant. She is the owner of Meaningful Solutions Counseling Consulting, where she maintains a growing private practice in Roswell, GA serving adolescents, young adults, individuals, and families. Dr. Williams is the co-author of the best-selling book Seen: Healing Despair and Anxiety in Kids and Teens Through the Power of Connection.
Pastor Jamie Nelson and I (Melissa Bolt) are thrilled that we are able to bring Dr. Williams here (to SBPC) to share her wisdom! Her research and information is solid and HELPFUL! The tools she shares are usable for everyone! No need to have a degree or special gifting, all you need is to care about a child.
This Wellness Night is intended for parents, grandparents, aunts/uncles, teachers, youth leaders, coaches, etc...essentially any adult who has a child in their life.
More information can be found on the Registration Page.
Understanding Your Grief - SBPC Grief Support Group
Loss produces an ache….an emptiness….a sadness. It requires a major adjustment in life, one that most of us would rather avoid. Yet, loss is inevitable and it is in coming together and sharing our own unique journey through grief that the burden becomes lighter and we achieve a better understanding of our own grief.
Our Fall sessions will start September 11th, on Mondays and Thursdays. Please click below for more information.
---
---
PAST EVENTS
Wellness Night (April 26th, 2023)
NAVIGATING THE EMOTIONAL ROLLER-COASTER OF OUR CHILDREN & TEENS
Speaker - Dr. Kayla Pray
Ph.D. Clinical Christian Counseling
We had a wonderful turnout of parents and grandparents!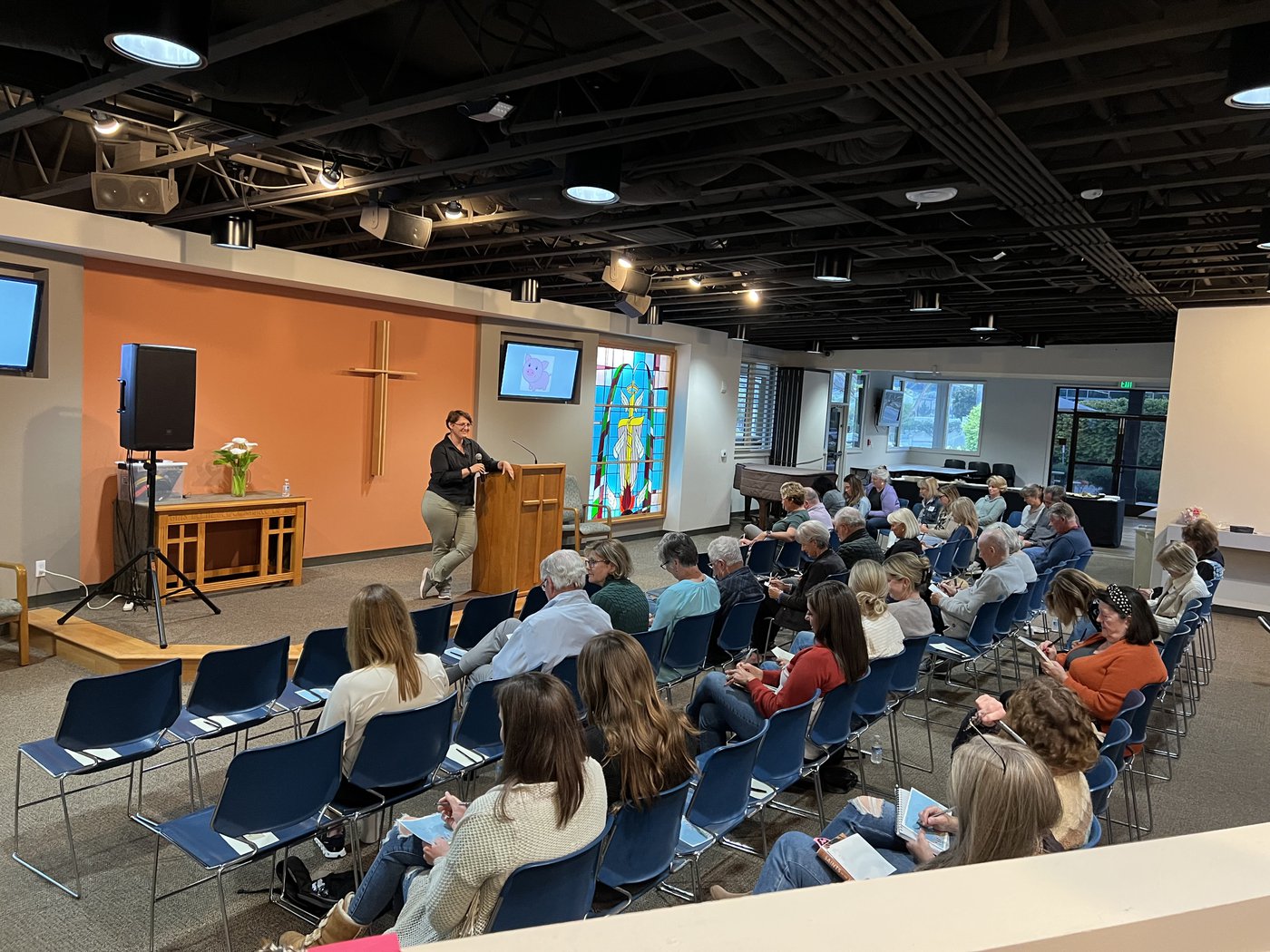 ---
RESOURCES
If you are experiencing a mental health emergency or crisis please call 988 (the 911 for mental health emergencies). More information and chat/text options can be found by clicking the below button.
Grace in Real Time Podcast about preteen mental health is produced by a great team here at SBPC - Paula and Jamie Mazza. They will be releasing podcasts on a monthly basis.
Out of the Dark is a podcast about mental health in the body of Christ. Mandisa and Laura will tackle the idea that, while Jesus IS enough, a relationship with a counselor can help heal wounds that will enhance your relationship with Jesus. With more than 1.6 million records sold, GRAMMY® winner and American Idol Season 5 finalist Mandisa is a voice of encouragement and truth to people facing life's challenges all around the world. Laura Williams is the owner/founder of Be Found Counseling in Brentwood, Tennessee. She is a Licensed Professional Counselor who specializes in developmental and relational trauma.
A Mental Health Test. Online screening can be a tool in helping to decide when to seek professional resources. Mental Health America has a variety of screenings through this link.
The US Surgeon General has warned that teenage mental health has reached a crisis stage. Learn more
FOR QUESTIONS OR MORE INFORMATION
Melissa Bolt MSW is our Director of Wellness and Assistant Director of Children's & Preteen Ministries. She is available to help you with your wellness needs through:
Connecting you with appropriate and tailored resources
Discussing if/which resources could be helpful to your circumstances
Praying with you
She is able to meet via technology or in-person in her office on SBPC Campus. Please reach out with any questions, needs, or requests. All inquiries/conversations will be kept confidential.
Contact
Cell (858)314-9616 Call or Text
Note that Melissa is out of the office on Fridays and Saturdays, so emails and calls will be returned starting on Mondays
Wellness will be working in conjunction with all of the programs and resources here at SPBC (see The Care Resource Guide). This program is in addition to what we have always offered.