Since May 2021, your Associate Pastor Nominating Committee has been deeply involved in the PCUSA search process. Tasked to identify a candidate with the competencies, spiritual gifts, and experience to thrive at Solana Beach Presbyterian Church as Associate Pastor of Discipleship, we felt this person should also be a cultural fit and augment our current pastoral staff.
We are thrilled to introduce to you, Rev. Candice Richey Womack! While we considered many qualified candidates, she is the one God has identified and whom we are unanimously recommending. At a congregational meeting that was held on Sunday, February 13, she was presented to our members for approval of her pastoral call to Solana Beach Presbyterian Church. We are thrilled to report that she was unanimously approved!
Thank you for your prayers throughout the process and for the opportunity to represent you. We are grateful for this discernment journey, the support of the Presbytery, but mostly the outcome. God has indeed provided!
Meet Pastor Candice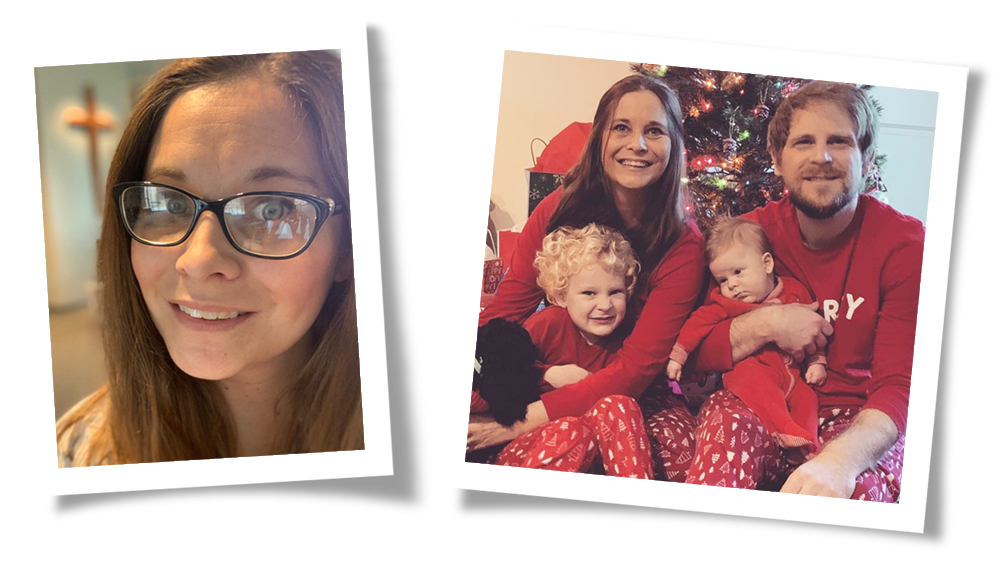 Rev. Candice Richey Womack is a born and raised San Diegan, a beach and burrito lover, and a lover of travel. Following the call to SBPC is coming home for her in more ways than one. Encinitas is her hometown, and she discovered her passion and gifts for ministry on mission trips to Mexico and in the San Diego Presbytery.
A Baptist preacher's kid, Candice has been nurtured in a rich diversity of churches throughout her life. She graduated from Baylor University with a Bachelor of Arts in Spanish and received a Master of Arts in Spanish from San Diego State University. Following a few years of teaching and youth ministry, Candice earned a Master of Divinity from Fuller Theological Seminary. She is also a board-certified chaplain with the Association of Professional Chaplains.
Candice was first ordained to chaplaincy and was a staff chaplain in the Texas Medical Center. She served as both a clinical chaplain and as a coordinator for the lay ministry of Houston Methodist Hospital. She now comes to us from North Texas, where she has been a solo pastor since 2018. Beyond church ministry, Candice has previously worked as a program coordinator in language literacy and vocational readiness for non-profit organizations in California and North Carolina.
Passionate about the way we belong to Christ and one another, Pastor Candice imagines discipleship as what draws us into the heart of God, giving us the grace to belong to one another. Candice loves to see how God's story is infused into each of our lives and how we share the uniqueness of our own faith stories with one another and our communities. She can't think of anything more meaningful than serving as the Associate Pastor of Discipleship in such a time as this.
Yours in Christ,
Mark Power, Chair, Gail Steel, Vice Chair, Debbie Inada, Jen Johnson,
Ramiro Marchena, David Southcombe, and Colleen Ster
UPDATES
February 2022
Rev. Candice Richey Womack was unanimously approved by our members to begin her call to ministry on April 1st at SBPC.
January 2022
After receiving and reviewing 128 Personal Information Forms, the APNC selected a final candidate to fill the Associate Pastor of Discipleship position. The APNC is confident that God was fully at work during this selection process and that he revealed the person called for this position. The final candidate will join us on Sunday, February 13, to preach in the worship service. A Congregational Meeting has been called for the same Sunday (after worship) to present the candidate for congregational approval. Stay tuned for more info!
November 2021
In our search for our new Associate Pastor of Discipleship, the Associate Pastor Nominating Committee has looked at about 100 Personal Information Forms and interviewed many candidates. As we narrow down the field, please pray for God to give us discernment to select the one He has already chosen for our church.
September 2021
The Ministry Information Form (MIF) was approved by Session and submitted to the Committee on Ministry (COM) at San Diego Presbytery. Once approved by the COM, the MIF will be entered into PCUSA's system to find candidates that most closely match the competencies listed on our MIF for our next Associate Pastor of Discipleship.
June 2021
In an effort to keep you informed on our progress, the APNC has been meeting weekly since June and using a book by Larry Warner to support our discernment. We have almost finished the Ministry Information Form (MIF), which describes our church and lists the competencies we are looking for in our next Associate Pastor of Discipleship. We expect to submit the MIF to Session for approval by the end of this month.
MILESTONES
Create the Ministry Information Form (COMPLETE)
Submit and gain approval of our Ministry Information Form (COMPLETE)
Post the Ministry Information Form (COMPLETE)
Receive and Review Candidate Applications (COMPLETE)
Select Candidates for Interviews and Begin Interview Process (COMPLETE)
Narrow Candidate Pool (check references, review sermons, etc) (COMPLETE)
Select Final Candidate and Make Offer (COMPLETE)
Present Candidate to Congregation for Congregational Vote (COMPLETE)
FAQs
Why are we searching for a new Associate Pastor of Discipleship?
Discipleship aligns with our vision to be a growing community of fully devoted followers of Jesus Christ so that members, friends and neighbors become disciples of Jesus, growing in their love of God and each other.
Why an ordained Associate Pastor?
Associate Pastors serve uniquely on staff and on Session, teaching the faith, administering the sacraments of baptism and communion, equipping for ministry, and shepherding the congregation.
What is the process of the Associate Pastor Nominating Committee (APNC)?
Ultimately, the task of the APNC is to present a qualified nominee to the congregation for approval. The APNC is elected by the congregation. Their process will be to post the position description (called a Ministry Information Form or MIF) and to begin receiving and reviewing candidates' applications (called Personal Information Form or PIF). The MIF will be posted through various denominational and online church networks. The APNC will work with a liaison from the San Diego Presbytery and make progress reports to the congregation. Once a final candidate is selected, the APNC will present the candidate to the congregation for approval.
How long will this take?
This process normally takes 12-18 months.
How can someone apply for this position?
The position has been filled.
TEAM BIOS
Debbie Inada
Debbie began attending SBPC in the fall of 1986 and came to faith in Jesus soon after. Her two sons, Dustin and Noah, were baptized and grew up at SBPC. Debbie first served at SBPC teaching English through our Hispanic Ministry and coordinating several outdoor teaching sites. She served as an elder in the mid-1990s, participated on the Social Concerns Committee, taught Sunday school, participated in KidsGames and Community Serve Day, and has served about 30 years with the Alternative Christmas Market. She is an active member of a small group and is currently enjoying fellowship and growth in her 2nd small group at SBPC. Debbie is grateful to God for this church and is excited to serve on the Associate Pastor Nominating Committee if the congregation approves this call.
Jen Johnson
Jen is a San Diego native, grew up in Scripps Ranch, and has lived in Encinitas with her family for the past nine years. She and her husband, Casey, enjoy being outdoors, camping, family hikes, and beach days with their children Sydney (8), Caden (5), and Carter (3). Jen is grateful for her foundation in faith: growing up in church, listening to her grandfather preach, and attending many youth group mission trips. Casey and Jen began attending SBPC sporadically when they moved to North County in 2012 but seriously connected with the church when they became members in 2016. Jen was very active in the MOPS ministry from 2014-2020 and enjoyed leadership roles as a Discussion Group Leader, Care Team lead, and Co-Coordinator for two years. In this space, she truly evolved in her faith and leaned into her relationship with Jesus. Jen has also loved volunteering at KidsGames and experiencing children grow closer to God. Community Serve Day is an amazing opportunity for her to serve alongside her family. They have enjoyed leading a site together for the past couple of years. Jen is grateful to live in this beautiful community and is honored and excited to be an APNC nominee and part of SBPC's next chapter.
Ramiro Marchena
Ramiro came to faith through the ministry of InterVarsity Christian Fellowship at UCSD. After college, he started attending SBPC and has been a part of this church for over 20 years. As the Regional Director for InterVarsity Christian Fellowship in San Diego, he and his wife Wendi work to reach college students with the gospel. They were married at SBPC, and their kids Joaquin (10) and Araceli (8) have grown up here. They currently live in Oceanside. Ramiro has been part of the Spanish service and the English 10:30 service. He has served as a Small Group leader, been a part of Oaxaca mission trips, Come Build Hope, and been on previous pastor search committees. Ramiro looks forward to being part of the APNC to see how God will shape the future of SBPC.
Mark Power - Chair
Mark was born and raised in a Christian household in Southern California and accepted Christ at an early age. He attended Reseda First Baptist in his youth, then Covenant Presbyterian in Reno, Nevada, and University Presbyterian in Seattle, Washington, as an adult. Mark moved to follow his career aspirations in document technology - from Santa Barbara to Reno, then Seattle and ended up in San Diego in 2006. He and his wife, Anita, joined SBPC as members in February 2007. Since then, Mark has served as an elder, on Nominating Committee, been on eleven Come Build Hope trips, and been a sermon-based small group leader for the last ten years. He has two adult children, Tipton and Kate, Anita's daughters Nicole and Jordan, and four grandchildren. He enjoys raising orchids, surfing, cooking, and jogging since his recent retirement.
David Southcombe
David grew up in Champaign, IL, in a Christian family and has known Jesus for as long as he can remember. His family attended a Lutheran church, and his faith walk became very personal during his Confirmation Class in 7th and 8th grade. David attended Wheaton College, where he met his wife, Ericka. After getting married, David & Ericka moved to Palatine, IL. There they started attending Willow Creek in the late '90s. They were asked and became trained leaders in Willow Creek's small group program and were active participants in several ministries. David & Ericka later transferred to First Presbyterian Church in Arlington Heights, IL, where they started a young adult program, participated in the adult education program, and led numerous Alpha programs. After moving to San Diego, they began attending SBPC. David has been involved in a variety of ministries and programs: Choir, Community Serve Day site leader, small group facilitator, men's triad group, men's ministry, Sunday Bible study, Next Steps ministry, young adult ministry, Come Build Hope, Creation Care, nominating committee, MOPPETS volunteer, etc. David is looking forward to this opportunity to serve SBPC on this APNC and explore with SBPC God's calling for us and our leaders.
Gail Steel – Vice Chair
Gail has been a Christian since elementary school. She and her husband, John, raised their sons in a Lutheran church, where she was on staff in the area of church change and growth. After 30 years as Lutherans, they returned to their Presbyterian roots when they moved to Solana Beach in 2003. She participated in the GROW initiative for the Mosaic planning process that established small groups as the primary way we grow in faith and experience community and transformation. The small group they co-lead is living proof! She was on the Discipleship Pathway task force that resulted in SBPC participation in Reveal. She is an inactive elder, was a mentor mom for MOPS and MomsNext, sat on the stewardship team, and served on a recent APNC. Her commitment to Christ and loyalty to SBPC are central to her decision to serve at this time. Her spiritual gifts are faith, giving, and discernment, but her greatest life gift is her family, particularly her five young adult grandchildren.
Colleen Ster
Born and raised in Frankfort, Indiana, Colleen grew up worshipping in a small country church, Manson Congregational Church, where church members, still today, are like family. Colleen met her husband, Brian, while attending Purdue University. They are now proud parents to three daughters: Caroline (22), Alexandra (18), and Isabelle (18). Colleen and her family moved to San Diego and began attending SBPC in 2002. In 2008, she started Reflections Publishing, where she publishes children's books to help assist children who are going through difficult times in their lives. Colleen began serving at SBPC in 2007 when she worked with Kristy Myers to run KidsGames. This opportunity led to Colleen working part-time at SBPC in the Children's Ministries department as a project manager for KidsGames from 2009-2013. In 2011, she started to develop CS 365 with Pastor Tom Theriault, which gives children and adults opportunities to live their faith through acts of love and service to others. Colleen has also served as a Ruling Elder and co-leader for Community Serve Day (CSD) and is actively involved with CS 365, CSD, and Foster Hope Ministry. Colleen feels blessed to have found a church family and home at Solana Beach Presbyterian Church.